How Unlocator Works
It's Simple. Every device connected to the Internet is using a so-called DNS. You are in fact using one right now to view this page. By using our DNS we router your IP trough our custom global DNS network. As a result we protect your IP from prying eyes when using your favourite services. Create a free Unlocator account, and follow the easy setup guide for your device. No tech skills required!
Ever Expanding Global Network
When you join Unlocator you join an ever-expanding network. Each of our servers allows us make sure that your IP stays out of reach from snooping eyes.
Works on All Devices
It's Easy. Since there is no software to install Unlocator will work with just about any device you have. Simply change network settings on your device or router and you are good to go.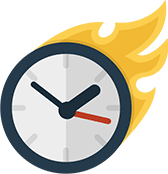 Extremely Fast - No Slow Downs
It's Fast. Unlocator is transparent in every day use. None of your sensitive data is passing trough Unlocator. In other words Unlocator won't slow down your connection. Your bandwidth remains completely untouched.
Start Your Free Trial
You get access to the full Unlocator product with your free trial. No payment details needed. If you decide to upgrade to a paid subscription we provide a full 14-day money back guarantee.